Vintage and Collectible Books
plus
Other Cult Classics
A page inspired by my love of books and the authors who write them.
Open an old book and you may not only be swept away by an engaging story, you can see a great deal of care and craftmanship went into printing, selecting papers, blending inks, creating art and binding a book. This intoxicating blend of story and art is part of what can make book collecting so alluring.

Tips on Caring For Your Vintage Book Collection:
Store your books in a cool, dry place. Attics and basements can be too hot and dry or too damp for delicate paper.

Do not try to repair books yourself. Tape and other adhesives can do more damage than good. Just store the pieces with your book.

Never throw away the dust jackets. No matter how ripped those paper covers may be, throwing them away will reduce the value of your book significantly.

Store oversized books and paper items flat.

Use acid-free wrappings or boxes. Check periodically for insects. Never store anything in a container that was once used for food or other organic materials (it will attract pests).

Wash and dry your hands before handling your books to keep them clean.


Favorite Book in my Store:
Aurora Leigh by Mrs. Browning by Elizabeth Barrett Browning Red Leather Covers

Published by W. B. Conkey, Chicago. 335 pages. circa late 1800s?, 5" wide x 7 1/4" tall
Unusual Printers Mark on Title Page, plus a mystery item inside the book

It is hardcover with a padded leather cover -gold gilt page edges -and gold title on front and spine. The cover is dark red or a deep maroon color, my photos are making it look a bit brighter than it really is. The front also has a pretty Victorian design in gold, which looks like thistle flowers. There is just a minor bit of wear on the edges. The binding is intact and good. The title page has a beautiful early art deco design printed in green and purple. The green ink is shiny like foil. The title page paper is a heavier stock. The endpapers have an intricate floral design in blue and white with an etching type art style. This is just a stunning piece of work, both in the way the book is constructed – and the poetry inside.

There's also a little mystery item in the book. It is a newspaper clipping with a short verse on it. As a result there's a little discoloration on the page. I feel like this needs to stay with the book. It it titled No Match for Her. The first lines are; "Ah!" he lightly cried, "I cannot / give you the key to my mind. / She smiled till the tips of her / pearly teeth fretted her ripe, red lip.

Find my copy of Aurora Leigh here...


Find more unique, vintage books in my MomsRetro store on eCrater!
Fun reading and book designs from my Zazzle store...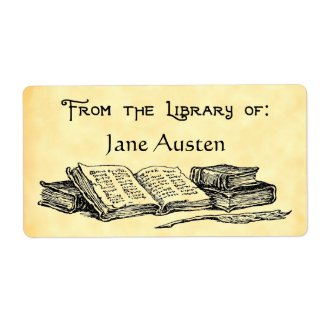 Custom "Library Of" Vintage Books Bookplate Label
A custom bookplate with anique books and a writing quill on faux parchment



New and Antique Art
Custom Kindle Cases
Make your Kindle case look like an old book... or something new



School, Reading and Storybook Art
Designs based on the fun of reading, bookplates and other related art


Custom "Library Of" Red Vintage Books Label
In retro red on faux parchment